15God' November
Narrated by Samantha Dash, The Wicche Glass Tavern by Sienna Kelly is the third audio in the fast-paced urban fantasy series, Sam Quinn. When Sam is protected, her aunt raises the stakes by chasing her inner circle and a towering threat to the vampires. Full of action, Kelly goes on a crazy trip.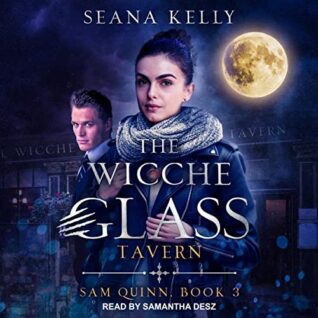 By Sienna Kelly
Series: Sam Quinn No. 3
Announcer: Samantha Dash
Length: 11 hours and 45 minutes
Genres: Urban Fantasy
Source: Publisher
purchase*: Amazon | audible * Partners
rating:

Heat level:

Narration: 4.5 cups Speed: 1.3x
I'm Sam Quinn, the owner of the werewolf's book geek's bookstore and the slaughtered sheep bar. Clive, calling my vampire gentleman, asked me to marry him. His night is less festive. Unfortunately, for them and the sexy vampire who does her best to seduce him, his cold, dead heart beats just for me.

As much as my love life feels like a minefield, they need to take the back seat to a much more urgent problem. I have to deal with my aunt, the woman who's been trying to kill me since I can remember. She found out how to kiss my friends against me. In order for me to have hope of surviving, I need to learn to use my necromantic gifts. I need a teacher. I need to determine why I'm in a hurry because my aunt does not care how many will be hurt or killed as long as she gets what she wants. What she wants is my name on her condition.

I gather my friends – werewolves, vampires, witches, gorgons, rage, half-demon, elf and a pair of dragon-exchangers – into a kind of drug fraternity. This is going to be a crazy battle. Hopefully San Francisco will still stand when the dust subsides.
Every audio book in this series reinforces the character arc and the story while pulling me further into their story. Sam is a werewolf with a bar. She's dating vampire master Clive Fitzwilliam. Until recently, Sam was protected and hidden from her aunt. Now, her aunt is looking for her and will not stop until she dies. With each chapter, we learn more about Sam and her new skills, heritage and more.
A lot happens in Vicha's glass tavern And like most urban fantasy series, it's important to read / listen to them in the order they come out. Sam no longer reopens the slaughtered sheep book and bar shop when her aunt uses patrons and friends alike to attack her. She enlists the help of a family member who did not know she had and with this discovery come more questions.
In the home front, a vampire named Leticia wants Clive's death. We learn a lot about his history when Sam collects vampires, pawns, werewolves and others to deal with both threats. We even get to travel to the Fa!
Sam has some near-death experiences and is suffering from loss. Listeners are treated to climatic battle scenes, magic and more. Between her bar patrons and the companies she embroidered, Sam's allies offer help. We are seeing growth in her supernatural abilities and her ability to trust.
I love the supernatural elements. The creatures are made up of werewolves, vampires, witches, gorgons, rages, demons, an elf and some dragon substitutes. So we have the magic, the scoring and the jumps. Throw in literary conversations, flock and faint and you have some pretty cool elements to the series.
The novel feels real, but with all the action, it's a sidebar. We gain moments of intimacy and gentle words. With Sam's near-death experiences, she clarifies her desires if one turns out to be fatal.
Samantha Dash, does an amazing job capturing Sam and other secondary characters and creatures. I wish Clive's voice was not so soft, but it suited his manners. Lapel uses tone and rhythm to enhance the story and make listening enjoyable.
We get some resolution and teasers for the following, leaving me curious about the next episode. Lovers of urban fantasy, shifters, magic and fairies will enjoy the Sam Quinn series.
The Vicha glass tavern by Sienna Kelly brings danger on two fronts. #Urbanfantasy #SamQuinn #audiobook #review #new edition Click to tweet

Stay with Caffeine!
Never miss a post by adding Contains caffeine To your inbox
Reading this book has contributed to the following challenges: